For any event, the Beiger Mansion is proud to offer delicious meals and hors d'oeuvres, certain to delight your guests. Our skilled culinary staff can tailor the menu for your event and create custom plates to ensure that the food fits any taste or style desired, or to cater to any dietary restrictions. The menu here gives a good idea of what we serve but is by no means all we do. If you don't see a dish that you want, just let us know. We will work with you to make it a reality.
Antipasto Caprese Skewers
- With Prosciutto, Tortellini, Mozzarella, Sun Dried Tomatoes, Olives, and Artichokes
Mini Lamb Gyros with Tzatziki Sauce
Domestic Cubed Cheese Platter
Gourmet Cheese Presentation
Baked Brie with Toasts and Crackers
-Apricot Jam, Peach and Chile, or Walnut and Caramel Topped
Baked Brie Cups with Fruit and Nuts
Mediterranean Chicken Skewers with Fig
Chile Lime Rubbed Chicken Skewers
House Made Meatballs
– Asian Chicken or Smokey Barbecue Beef
Chicken Liver Pate on Pumpernickel Toast
Chips and Dips
– Guacamole, Bruchetta, Hummus, or Fresh Salsa with our own Seasoned Pita Chips, Toasts, and Crackers
Baba Ganoush
- Creamy Spread of Eggplant, Tahini, Lemon and Garlic
Parmesan Cracker Spoons with Guacamole or Hummus
Mini Quiche Tarts or Quiche Squares
– With Gruyere and Leek, Feta and Spinach, Bacon and Onion, and many more
Chicken Salad Sandwiches with Apricot and Dried Cranberries
Mini Ruebens in Puff Pastry
Seasoned Beef Phily Sliders
- Served with Onions, Green Pepper, and Mozzarella Cheese
Filet or Prime Rib Sliders
Beef Wellington Bites
-Filet with Mushroom Duxelles Wrapped in Puff Pastry
Roast Beef Roulades on Toasts
Ham Tomato and Cheese Crostinis
Salami Trumpets with Artichokes and Herbed Cream Cheese
Dolly Pops
- Lamb Pops Served with Rich Demi Glace Dipping Suace
Bacon Wrapped Blue Cheese Stuffed Dates
Bacon Wrapped Water Chestnuts
Mac and Cheese Bites in a Prosciutto Cup
Jalapeno Breadcrumb Crusted Mac and Cheese Bites
Crudite Presentation with Dip
Individual Vegetable Cups
Caesar Salad Martini
- optional with Grilled Shrimp or Chicken
Ahi Tuna Scoops with Wasabi Coleslaw
Lobster Bite Skewers with Butter
Crab Cakes
-Served with Remoulade or Tartar Sauce
Oysters on the Half Shell
Salmon Roses on Pumpernickel
Salmon Mousse on Pumpernickel
Gravlax Salmon Presentation
- House Made Premium Cured Salmon with Dill served with Toasts and Crackers
Baked Salmon Presentation with Crackers and Toasts
Grilled Shrimp on Coconut and Jalapeño Corn Bread
Seafood Puffs
- Crab and Sprimp with a Rich Garlic, Cream and Cheese Mix on Baguette Slices
Fire Roasted Tomato Bisque
Gazpacho Blanco
– Refreshing Cold Cucumber Soup
Baked Three Cheese French Onion Soup
Mansion Salad
– Mixed Greens, Cucumber, Tomato, Parmesan, Champagne Vinaigrette
Winter Salad
- Apples, Celery, Dried Cranberries, Toasted Pine Nuts, Parm, Champagne Vinaigrette
Spinach Orange Citrus Salad
Panzanella
– Seasonally, A salad with seasoned dried bread tossed with lots of marinated tomatoes, mozzarella, and a balsamic drizzle
Waldorf Salad
- Classic Dish of Apples, Celery, Grapes, Walnuts, and more tossed in creamy dressing.
Spinach Strawberry and Candied Walnut Salad
Napa Cabbage with Apricot and Cranberry Chicken Salad and Mini Muffins
-Generally Served as a Lunch or Brunch Entree
Entrees
Served with two sides a salad and fresh baked rolls
Char-grilled Skewers
Beef Filet
– Whole Roasted Beef Tenderloin Sliced to Order with Choice of Sauces
Char-grilled Skewers
- Filet, Chicken, or Lamb with Various Vegetables and Peppers
Slow Roasted Prime Rib
- Sliced to Order and Served with Mushroom Demi-Glace or Horseradish Cream Sauce
Osso Buco
- Beef, Lamb, or Veal, Slow Braised with Wine and Tomatoes
Parmesan Encrusted Pork Medallions
Pulled Pork with Assorted Sauces
Chicken Oscar
-Chicken Topped with Asparagus, Crab, Hollandaise Sauce and Capers
Tomato Basil Roasted Chicken
Roasted Half Cornish Game Hen
Baked Salmon with Lemon and Dill
Portobello and Grilled Vegetable Stack with a Red Pepper Sauce
Gnocchi with Grilled Vegetables
Rosemary and Parmesan Polenta
Risotto
- Various Flavors
Roasted New Potatoes with Rosemary
Potato and Green Bean Salad with Honey Buttermilk Dressing
Baked Macaroni and Cheese
Mixed Vegetables Grilled, Roasted or Steamed
-Varies Seasonally
Mixed Berry Cobbler with Whipped Cream
Strawberries Stuffed with Honey Cream Cheese or Chocolate Dipped
Chocolate Purses
-Wrapped In Phyllo Dough
Caramel Apple, Walnut, and Goat Cheese Purses
Chocolate Mousse with Berries and Whipped Cream
Lemon Mousse with Berries and Whipped Cream
Creme Brulee
-Classic Vanilla or with Orange Liqueur
Home Made Pumpkin Pie - Seasonally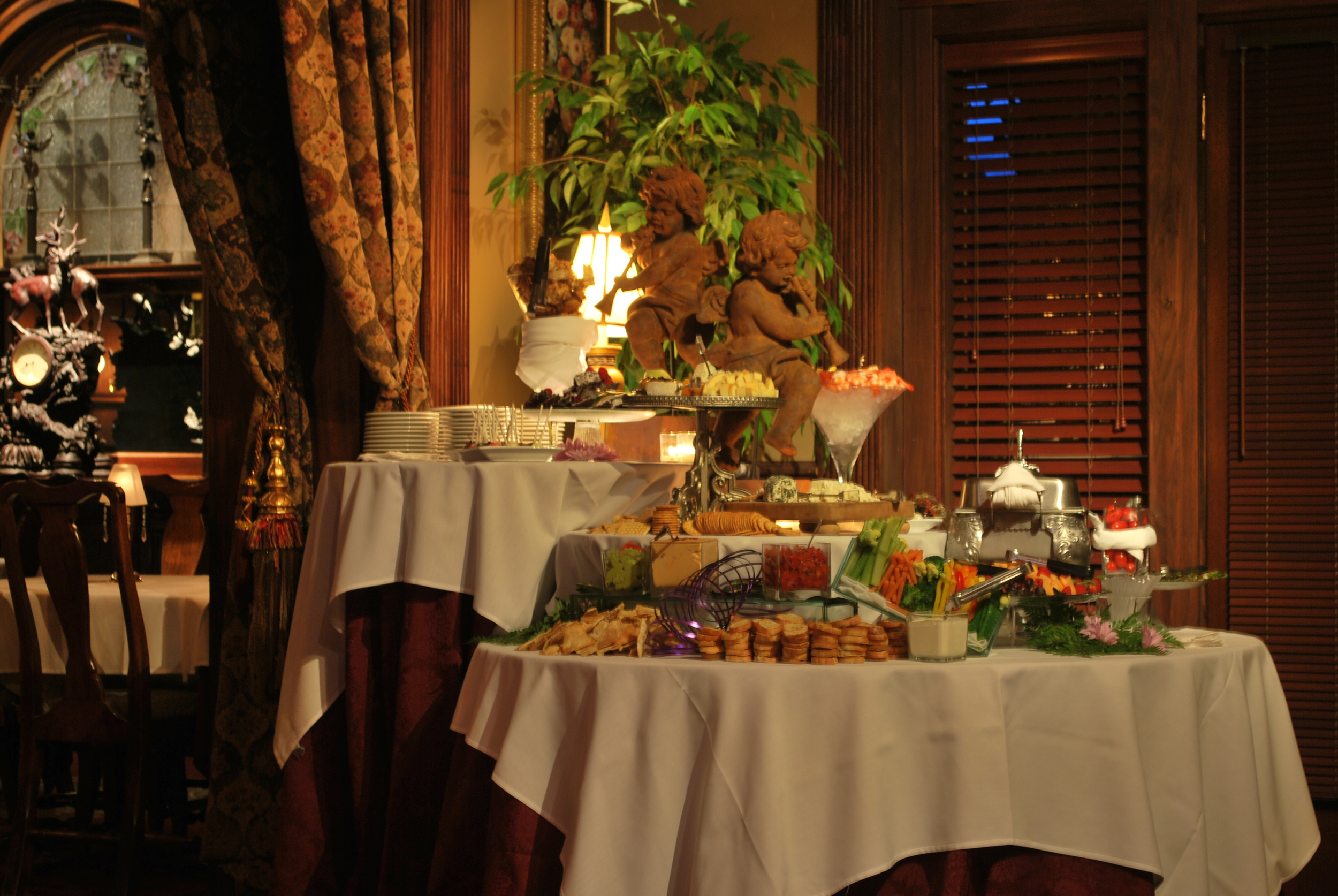 Chicken Marsala with Rosemary (Christmas Tree) Polenta and Seasoned Vegetables
Panzanella Salad and Hors D'ouervres
Tomato, Mozzarella, and Baby Greens Salad with Seared Scallop, Parmesan Crostinis, and a Balsamic Reduction
Various Passed Hors D'Oeuvres. Pictured is Roast Beef Roulades, Salami Trumpets with Artichoke, Grilled Shrimp with Pineapple on Coconut Jalapeno Cornbread, Salmon Mousse on Pumpernickel, Bruschetta in Pita Cups, and Baked Brie Cups with Fruit
Creme Brulee with Orange Liqueur and Raspberries
Mixed Berry Cobbler with Whipped Cream
Cream of Mushroom Soup with a Parmesan Twill
Citrus Salad with Crusted Baked Salmon and Cheddar Biscuit
Apricot and Cranberry Chicken Salad with Orange Cranberry Muffins
Filet and Scallop Surf and Turf with prosciutto Wrapped Asparagus and Roasted Potatoes
Slow Braised Beef Osso Buco
Vegetarian Portobello Stack
Panzanella Salad with Mozzerella
Fresh Berries with Grand Marnier Infused Whipped Cream